VISIT THE VAN ZESSEN HOUSE
The design of the Van Zessen House, situated in the town of Alblasserdam, was pivotal in shaping the ideas of the artistic movement known as De Stijl. Urban planner Cornelis van Eesteren (1897-1988) and artist and poet Theo van Doesburg (1883-1931) developed the design for the house together, in Paris, where they were working on an exhibition about De Stijl in the summer of 1923. The exhibition was to mark a pinnacle in the development of modern art and architecture.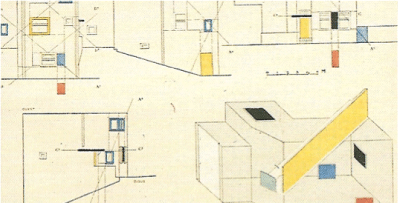 MAKE AN APPOINTMENT
Guided tours of the Van Zessen House are offered by appointment. To reserve, send an email to: contact@huisvanzessenalblasserdam.nl.
Follow us on:

PARTNERS
Het Nieuwe Instituut in Rotterdam supports the museum the Van Zessen House with advice and material for expositions.
The Van Zessen House is a member of Iconic Houses.