Van Zessen House
The Van Zessen House is in the town of Alblasserdam, birthplace of the famous urban planner Cornelis van Eesteren, who later made a name for himself with his General Expansion Plan for Amsterdam. Growing up in Alblasserdam and having a father in the contracting business shaped Van Eesteren both personally and professionally. His meetings with the great artistic talents of his time, including the artist Theo van Doesburg, helped to forge his ideas and the visual vocabulary of modern architecture and urban development.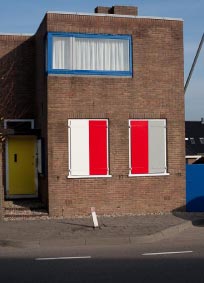 Van Eesteren took his design drawings for the Van Zessen House to Paris, where Theo van Doesburg created a colour scheme for the interior and exterior. The drawings were then posted back to Alblasserdam with instructions for the painter.
When the house was completed in November of 1923, Van Eesteren had already obtained photographs of it. In February 1924 he wrote that he loved the colours and took daily pleasure in the result.
The Van Zessen House belongs to the Van Eesteren-Fluck
& Van Lohuizen Foundation (www.efl-stichting.nl), which
administers the estate of Van Eesteren and his associate
Theodoor van Lohuizen. During its restoration by Bertus Mulder in 1990, the house was returned to its original colour scheme.